COVID-19
CRISIS WARMLINE
410-768-5522
24 hours a day, 7 days a week
Maryland Department of Health releases FAQ Document for Post Covid-19 Executive Orders
On July 1, 2021, certain executive orders issued during the State of Emergency were terminated. One of the orders was Executive Order 20-04-01-01, which expanded the use of telehealth and audio-only services. This order is replaced by the Preserve Telehealth Act (SB 3).
CLICK HERE to view a list of FAQs regarding this update.
If you have a behavioral health question related to post COVID-19 telehealth services, please contact bha.inquiries@maryland.gov with additional questions or concerns, or contact your Local Behavioral Health Authority
Maryland Department of Health Releases Resource Guide for Students and Young Adults Coping with Covid-19 Pandemic
Who is Providing Covid-19 Vaccines in Anne Arundel County?
Five Tips from Mental Health First Aid to Help You Maintain Resilience in 2021
A message from our Executive Director
October is National Depression and Mental Health Screening Month, along with a focus on Mental Health Awareness during the first week, and World Mental Health Day on October. 10th. Our friends at the National Alliance on Mental Illness (NAMI) have a series of events planned for Mental Illness Awareness Week at the beginning of the month, including National Depression Screening Day on Thursday, October 7th, and NAMIWalks Your Way: A United Day of Hope on Saturday, October 9th.
It is encouraging to see how the efforts of so many have helped bring awareness to the mental health needs of our community, and my hope is that increased awareness opens conversations that continue throughout the year. Be sure to check our website throughout the upcoming weeks, as we will be featuring more information about scheduled events.
Sincerely,
Adrienne Mickler
Latest News
Anne Arundel County DisAbility Awareness Day, Thursday, October 21st, 2021
The Anne Arundel County Department of Aging & Disabilities and Anne Arundel Commission on Disability Issues will be holding a virtual event on Thursday, October 21st, 2021 at 6:00 PM in recognition of DisAbility Awareness Day.
This event will feature an art demonstration, entertainment, and the induction of the 2021 DAD Honoree, Katie Collins-Ihrke (Director, Accessible Resources for Independence). Free art kits will be available for pickup ahead of the event.
For more information or to register for this event, CLICK HERE
World Mental Health Day - October 10
Mental healthcare for all: Let's make it a reality
World Mental Health Day is celebrated to provide global education and awareness in recognizing mental health issues and educating communities on how to achieve wellness. Mental and physical health are equally important. If we are not mentally well, it can put our overall health at significant risk. World Mental Health Day also provides an opportunity to break down the barrier of stigma, which continues to prevent individuals from seeking the help they need to improve their overall wellbeing.
SMART Tool-Self-Assessment for Modification of Anti-Racism Tool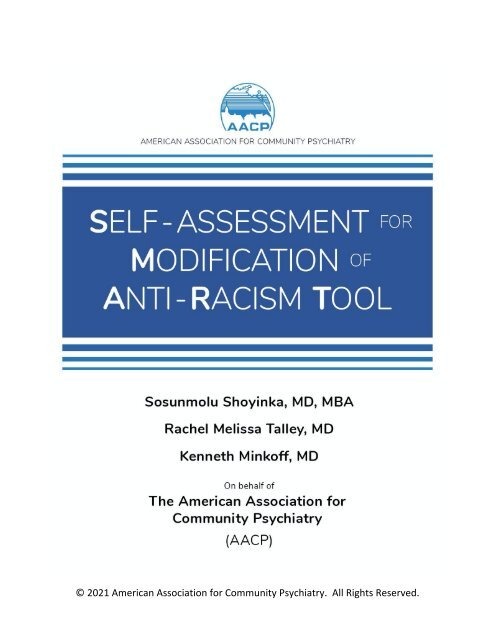 SMART is the first tool designed specifically to help community behavioral health organizations to assess the extent to which their organizational and clinical processes are affected by racism, and to use that information to create measurable progress in becoming anti-racist at all levels.
The tool is intended to encourage behavioral health providers to implement concrete organizational change in multiple domains, challenging community behavioral health providers to be proactively and intentionally anti- racist in their operations.
National Hispanic Heritage Month: September 15th-October 15th
Every year, we observe National Hispanic Heritage Month from September 15 to October 15 by celebrating the rich culture, history, and many contributions of our Hispanic American citizens – our neighbors - whose ancestors are from Central and South American, the Caribbean, Spain, and Mexico.
We honor them and show support by bringing awareness to all our communities through county-wide festivals, including food and art festivals and other community gatherings to experience their rich and diverse culture.
Another way we can support our Hispanic Americans is to bring awareness to mental health and help connect them to available resources. Approximately 1 in 10 Hispanics with a mental disorder use mental health services from a general health care provider, while only 1 in 20 receive such services from a mental health specialist.
The Anne Arundel County Gun Violence Intervention Team Community Meeting, Thursday, October 28th 2021, 5:00 PM
Register for the Gun Violence Intervention Team (GVIT) Fall community meeting to hear about progress updates, how they are working to address gun violence, and opportunities to get involved.
This will be held virtully on Thursday, October 28th at 5:00 PM
Crisis Resources
Support During a Crisis
The Anne Arundel County Mental Health Agency and the Anne Arundel County Department of Health have compiled the following information and resources for addressing mental health and overall well-being of children and adults.
If you have Experienced a Traumatic Event or Critical Incident...
If you have experienced a traumatic event or a critical incident (any event that causes unusually strong emotional reactions that have the potential to interfere with the ability to function normally), even though the event may be over, you may now be experiencing or may experience later, some strong emotional or physical reactions.
Coping With Tragedy Video
About AACMHA
The Mission of the Anne Arundel County Mental Health Agency is to provide leadership and collaboration for planning, monitoring, and managing of a comprehensive, quality, person-centered, Behavioral Health continuum of care for Mental Health and Substance Use Disorders that promotes prevention, recovery, resiliency, health and wellness for our residents who have, or who are at risk for, these behavioral health disorders.
The Anne Arundel County Mental Health Agency (AACMHA) is dedicated to ensuring that Medicaid recipients and other low-income, non-insured county residents who meet certain criteria have access to a wide range of quality mental health services.
There are numerous agencies involved in providing mental health care and many different words are used to describe services. If you don't understand what a word or term means, visit our words to know page for more information.