COVID-19
CRISIS WARMLINE
410-768-5522
24 hours a day, 7 days a week
Maryland Department of Health releases FAQ Document for Post Covid-19 Executive Orders
On July 1, 2021, certain executive orders issued during the State of Emergency were terminated. One of the orders was Executive Order 20-04-01-01, which expanded the use of telehealth and audio-only services. This order is replaced by the Preserve Telehealth Act (SB 3).
CLICK HERE to view a list of FAQs regarding this update.
If you have a behavioral health question related to post COVID-19 telehealth services, please contact bha.inquiries@maryland.gov with additional questions or concerns, or contact your Local Behavioral Health Authority
Maryland Department of Health Releases Resource Guide for Students and Young Adults Coping with Covid-19 Pandemic
Who is Providing Covid-19 Vaccines in Anne Arundel County?
Five Tips from Mental Health First Aid to Help You Maintain Resilience in 2021
A message from our Executive Director
This month we celebrate Thanksgiving, traditionally a time to reflect on all we are grateful for.
Vaccination rates are rising, and case numbers are coming down, and we can now come together for a traditional Thanksgiving meal. November is truly a month where we acknowledge everything we have to be thankful for.
November is also National Veteran and Military Families Month, with Veterans Day celebrated on the 11th. In the spirit of the month, our gratitude extends to veterans, their families, and the sacrifices they make for us all.
Sincerely,
Adrienne Mickler
Latest News
Maryland Stop Overdose Strategy (S.O.S.) Town Hall for Anne Arundel County
The Maryland Opiod Operational Command Center will be holding an Anne Arundel County Town Hall on Tuesday, November 30th from 4:30 PM-6:30 PM at the Arundel Christian Church (710 Aquahart Rd., Glen Burnie).
Share your experiences of how the opioid and overdose crisis has impacted your lives and your communities. Town hall attendees are encouraged to share their thoughts about approaches at the local level that can help combat the opioid crisis and save lives. This event is open to the public.
For more information or to register, CLICK HERE
Anne Arundel County Department of Health GVIT Releases Youth Gun Safety Toolkit
The Anne Arundel County Department of Health Gun Violence Intervention Team (GVIT) has released a Youth Gun Safety Toolkit.
The resources on this page are intended for adolescents seeking resources and support. Parents and caregivers can also use the information in this toolkit to learn more about what they can do to make their homes and communities safer, and how to talk about gun safety with children, teens and other parents.
To access the toolkit, CLICK HERE
Free Webinar: Strategies to Support Wellbeing and Retention of BIPOC Staff
The National Council for Mental Wellbeing is offering a free Webinar, Strategies to Support Wellbeing and Retention of BIPOC Staff. Join this webinar on Wednesday, December 1, from 12-1 p.m. ET to learn about strategies to create and support safe spaces, encourage cultural humility, address microaggressions and engage in fruitful dialogue around racial equity in the workplace.
For more information or to register, CLICK HERE
SMART Tool-Self-Assessment for Modification of Anti-Racism Tool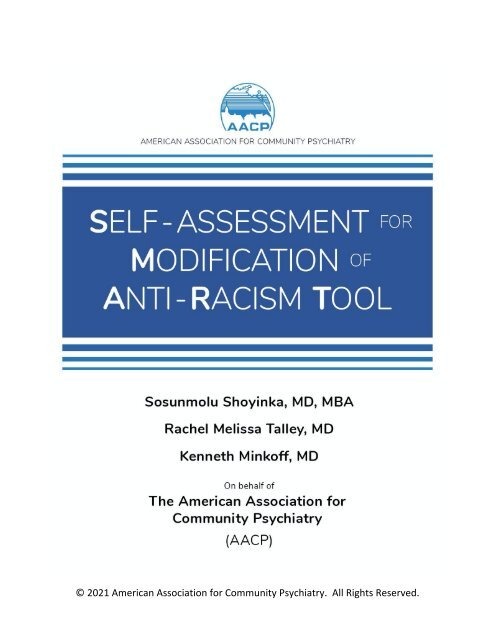 SMART is the first tool designed specifically to help community behavioral health organizations to assess the extent to which their organizational and clinical processes are affected by racism, and to use that information to create measurable progress in becoming anti-racist at all levels.
The tool is intended to encourage behavioral health providers to implement concrete organizational change in multiple domains, challenging community behavioral health providers to be proactively and intentionally anti- racist in their operations.
Department of Health's Gun Violence Intervention Team Releases Its Suicide Prevention Toolkit
The Anne Arundel County Department of Health's Gun Violence Intervention Team (GVIT) has released a Suicide Prevention Toolkit.
Crisis Resources
Support During a Crisis
The Anne Arundel County Mental Health Agency and the Anne Arundel County Department of Health have compiled the following information and resources for addressing mental health and overall well-being of children and adults.
If you have Experienced a Traumatic Event or Critical Incident...
If you have experienced a traumatic event or a critical incident (any event that causes unusually strong emotional reactions that have the potential to interfere with the ability to function normally), even though the event may be over, you may now be experiencing or may experience later, some strong emotional or physical reactions.
Coping With Tragedy Video
About AACMHA
The Mission of the Anne Arundel County Mental Health Agency is to provide leadership and collaboration for planning, monitoring, and managing of a comprehensive, quality, person-centered, Behavioral Health continuum of care for Mental Health and Substance Use Disorders that promotes prevention, recovery, resiliency, health and wellness for our residents who have, or who are at risk for, these behavioral health disorders.
The Anne Arundel County Mental Health Agency (AACMHA) is dedicated to ensuring that Medicaid recipients and other low-income, non-insured county residents who meet certain criteria have access to a wide range of quality mental health services.
There are numerous agencies involved in providing mental health care and many different words are used to describe services. If you don't understand what a word or term means, visit our words to know page for more information.