Mental Health Resources
---
Emergencies
Call 911
Immediate assistance in any emergency
Mental Health Programs, Services, & General Information
---
Additional Hotlines & Resources
Family & Youth Hotlines
Maryland Crisis Line
Dial 211 - Press 1
24 Hours a day, seven days a week
Provider Support
Physician Support Line
Monday – Friday: 8AM - 3AM ET
Saturday – Sunday: 8AM - 3AM ET
National Support Hotlines
Veteran's Crisis Line
1-800-273-8255, Press 1 
24 hours a day, 7 days a week
Text to 838255
A Message from Our Executive Director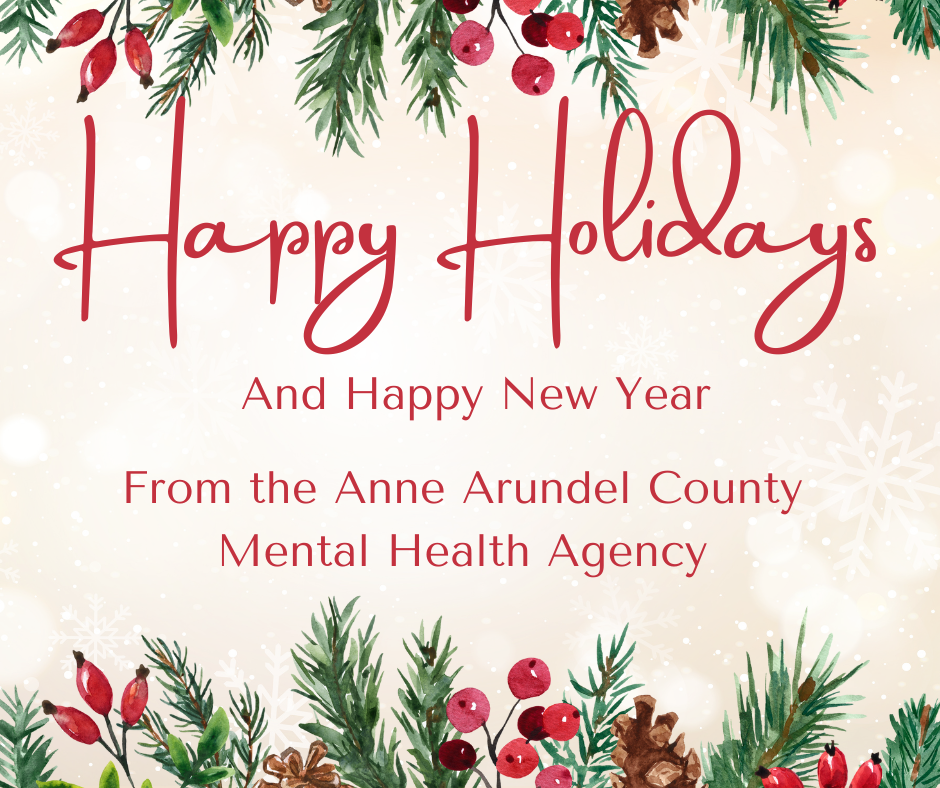 December 2023
We wish everyone a safe and happy holiday season. Whether or not you celebrate, during this hectic season, remember to take care of yourself, connect with friends and family, and spend time on the things that matter most to you and your loved ones.
 If you are experiencing stress from the hustle and bustle of the season, Johns Hopkins Hospital has shared mindfulness tips that can help bring perspective to the holidays, and allow us to remember what is important and meaningful this holiday season.
If you are in crisis and need help, our Warmline is open 24/7 at 410-768-5522.
Follow the Anne Arundel County Mental Health Agency on Facebook
Upcoming Provider Trainings & Workshops
The Anne Arundel County LBHA Newsletter
The Anne Arundel County Mental Health Agency and the Anne Arundel County Department of Health
work together in partnership as the Local Behavioral Health Authority (LBHA).
The LBHA publishes a monthly newsletter with the latest news, events, and updates for county residents and providers.